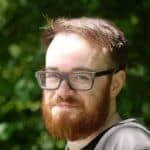 Duncan was voted the winner of the Uranium Zone in November 2017. Here he reports on using the £500 prize money to fund a new podcast about medical research, Not Exactly Rocket Science.

If you'd like the chance to win funding for your own public engagement work, apply for the next I'm a Scientist, Get me out of here: imascientist.org.uk/scientist-apply
---
Winning I'm a Scientist came with two immediate thoughts: "great, I won!", and "oh no, now I have to make a podcast and I have no idea how to do that!". I did some research and spent the money on recording equipment, hosting, and a cool domain name (notexactlyrocketscience.fm), then started to charm researchers into being interviewed for it.
It was pretty exciting when the first episode went live on the 1st of June, and it's been really fun to learn so much about what people who work in my building are actually researching, and how that research gets done. Listen to all the episodes so far here.
As well as the podcast, I've been involved for about a year in another project called Circuits!, in which we've co-created teaching materials so that high school teachers can use our research to enthuse kids about science while they're learning about light and sound.
I'm hoping to create a bit of a mashup at some point with an episode of the podcast all about Circuits!, answering questions from students who have used the tool. My experience in I'm a Scientist should be invaluable there.