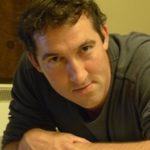 Sam was voted the winner of the Relationships Zone in June 2017. Here he talks about using his prize money to bring together a group of people ages 85 and over to talk about his research.

If you'd like the chance to win funding for your own public engagement work, apply for the next I'm a Scientist, Get me out of here: imascientist.org.uk/scientist-apply
---
The money was incredibly helpful in funding a day, in Bristol, of discussion and debate with a group of 12 older people (aged 85-99) that enabled us to listen to, better understand, and explore how old people look back over the course of their lives, how they reflect upon the close relationships they have, and the various sorts of challenges and issues this creates for them.
We hoped this day would enable us to listen to older people's reflections on the lives they've lived and the relationships they've had, and the ways in which they cope with and make peace with unresolved regrets and pain. The old people took part in two focus groups where they were basically telling us their stories and their lives and we paid for their transport, refreshments, and meals for the day.
We hope that by engaging with these older people in this sort of outreach activity, we will be able to launch further investigations and research that are better able to support older people's inner lives – which is something that is often neglected – and they will have been active participants in the process.