After every event we ask the winning scientists to write a short post to be sent to all the students who took part in the zone. It's the perfect way for the scientists to reflect on their experience with I'm a Scientist, and talk about how they plan to use their £500 prize money.
If you're a scientist, whether in academia or industry, and you're keen to experience the 'best crash course in sci-comm', you can let us know you're available to take part now.
Apply now for events happening this year >
---
"What I enjoyed most was talking to young people about their aspirations for the future and thinking about the skills that psychology could help them develop to follow a career path in; music psychology, paediatrics, game design, politics, business, and so many more.
I also really enjoyed hearing about your hopes and wishes for a fairer society, which is something I feel so passionate about. I wish you all the best of luck for your future studies and careers."
"First and foremost, I'd like to thank all the students who participated in this Zone: your enthusiasm and curiosity was infectious, and it made all of us researchers even more excited to chat with all of you and answer your brilliant questions!
I learned so much from all of the students at all the Chats I took part in: I got the opportunity to practice communicating and explaining my work to people outside of the biomedical community, and there were many instances which made me take a step back to think about my research in a different (and better) way."
"I am very grateful to all the organisers, sponsors, moderators, teachers, and fellow scientists, who all contributed so much to this programme. This is a team effort and as they say 'teamwork makes the dream work'.
Most importantly, I wish to thank the students for participating. It has been so much fun to be able to chat with many of you. It is absolutely astonishing how many great questions you all have had. Many of you asked how we became scientists. For me, it started no different but with the same curiosity and motivation that you have shown during this event. I wanted to know what the most difficult questions are and how we can answer them."
"Thank you to everyone who voted for me in the Health Zone. I'm so surprised and thrilled to have won! Your interesting questions are always the best part: it reminds me to be curious and love my work just a little bit more.
Never stop being curious and passionate about what makes you happy too. It might be science or it might be something else; as long as it makes you bounce with excitement – go for it!"
"Thanks for your votes and, more importantly, thanks for your wonderful and curious questions. This is not the first time that I've participated in I'm a Scientist, Get me out of here, but I'm happy to say that this year, I had even more fun than before! I would like, one day, to replicate this format in Italy, where an event like this would be appreciated for sure. I really hope that in the last month I have been able to give you not only answers, but also a nice experience to be remembered."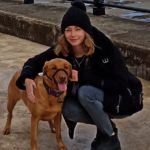 "I'm a Scientist is such a brilliant and accessible way for science engagement to take place online, and I'm so happy that I chose to take part. Thanks to everyone that has worked hard to make I'm a Scientist a success, and to the organisers of Futures2020, and once again thanks to all the students for getting involved and for voting for me!"
---
Improve your communication skills, engage school students with your work, and take part in easy public engagement from the comfort of your desk. Let us know you're available to take part: