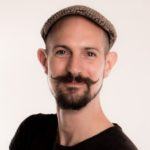 Russell was voted the winner of the Rutherfordium Zone in March 2019. Here he writes about how he used his £500 prize money to reach further afield and meet new people to talk to about his research.
If you'd like the chance to win funding for your own public engagement work, apply for the next I'm a Scientist, Get me out of here: imascientist.org.uk/scientist-apply
---
Having won the I'm A Scientist prize money back in March, my original intention was to visit a number of local schools and give a fun, interactive presentation about my plankton research to different age groups (having done similar talks at Cheltenham Science Festival, it's actually better than it sounds!).
Being based at the University of Bath for several years now, I had already visited a number of schools around the area so was looking to branch out and visit some areas/communities that I hadn't been to before. I took the opportunity to visit Usk CiW Primary School in Monmouthshire, Wales and also headed up to Heswall Primary School in the Wirral, Liverpool.
Amazing morning with the inspirational oceanographer @Russell_Arnott learning about our oceans and plastic waste. Who knew that an orca is a dolphin not a whale ? @incredoceans #heswalloceanblue #taketheplasticpledge pic.twitter.com/Xt0IjjW58M

— Heswall Primary (@HeswallPrimary) June 24, 2019
In recent months, I had noticed a very distinct lack of diversity within the marine science and conservation fields. As such, I felt it was important to start reaching out to over-looked communities on my doorstep. Living in East Bristol, I was keen to give something back to my own community so myself, Zaharatu Babika (also a researcher at Bath) and her daughter Sumi attended the Somali Women's Group annual community picnic in St Anne's, Bristol.
The marine education organisation, Incredible Oceans, kindly lent me their life-size inflatable orca for the event which acted as a fantastic focal point about which to start a conversation about plankton and plastic pollution. Building upon this, I also exhibited at the Africa Oyé music festival in Liverpool where I presented alongside others from Incredible Oceans, DEFRA and Natural England.
Keen for the prize money to have some "legacy", I also wanted to invest in some equipment that I wouldn't ordinarily have been able to afford. I often give talks about the deep ocean and I found that the concept of pressure is a difficult one for many people to grasp. Looking for a fun & effective way to help audiences visualise the power of pressure, I opted for a set of Magdeburg Hemisphere; a 400-year-old physics demonstration to show the strength of the atmospheric pressure.
The demo consists of two hemispheres which are placed together and then evacuated resulting in a vacuum. The hemispheres are held together by atmospheric pressure and then two audience "volunteers" are invited to pull them apart; the original demonstration took 16 horses to separate! Having got in touch with school science equipment suppliers, Phillip Harris, they kindly sent me TWO sets of Magdeburg hemisphere free of charge so all I had to purchase was the vacuum hand-pump!
The spheres were inaugurated at the Cheltenham Science Festival as part of a presentation entitled "Exploring The Deep: Ocean vs Space" which was specially developed to coincide with the 50th anniversary of the Apollo Lunar Landing.
In total, I spent £192 on travel to the two schools I visited, £88 on travel for three people to the Somali Women's Group annual picnic in Bristol, and ~£200 on a vacuum pump for the Magdeburg Hemispheres demonstration, with remaining funds going towards travel for future talks. Overall, the prize money has helped me reach a much wider range of people than I would have ordinarily been able to, as well as helping me make valuable links with different communities across the UK.