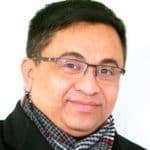 Sanjib was voted the winner of the Drug Resistance Zone in November 2017. Here he writes about using his £500 prize money to involve local school students in a research project.
If you'd like the chance to win funding for your own public engagement work, apply for the next I'm a Scientist, Get me out of here: imascientist.org.uk/scientist-apply
---
The main purpose of this public engagement activity was to inspire and stimulate a young generation of future scientists locally as well as to engage and enhance public awareness of antibiotic resistance and superbugs.
I first created a link with St Francis Xavier 6th form College through their Biology teacher-in-charge, Ms Nimerta Virdee who was also a part-time MSc Microbiology student at Birkbeck. As a number of the young students at this college are from non-traditional and low socio-economic backgrounds, the school-based science project has helped to raise their aspirations, motivation and confidence to follow a career in science.
The science project began with a public talk to A level and BTEC Science students and their teachers debating on Antibiotic Resistance and the dangers of Superbugs. The talk focused on tuberculosis (TB) and the rise of this deadly infection in London and across the world.
Impressed by the enthusiasm and critical thinking of the SFX students, I invited a group of students to collaborate with Birkbeck, University of London on a research project to investigate the repurposing of painkiller drugs as new antibiotics to treat resistant strains of the germ that causes TB. This research avenue could provide and quick and low-cost source of medicines to be used to treat resistant forms of TB.
In total, we had three long lab practical and skills training sessions. £405 was spent on growth media & culture suppliments, antibiotics, chemicals and disposible plastic wares for the students to conduct their experiments, and the rest on travel expenses for the students to and from the university.
With the help of a PhD student from my lab and their biology teacher the students were able to record their observed results and interpreted them meaningfully. On successful completion of this science project the students visited Birkbeck, University of London to present their findings and showcase their research during the university's BSc Biomedicine and Biological Sciences taster event. In addition, the students shared their knowledge and research project findings to members of public in a School Open Day.