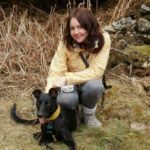 Kelly was voted the winner of the Fermium Zone in November 2018. Here she writes about how she used her £500 prize money to introduce GCSE students to the benefits of animals to mental health, as well as how to conduct qualitative psychology research.

If you'd like the chance to win funding for your own public engagement work, apply for the next I'm a Scientist, Get me out of here: imascientist.org.uk/scientist-apply
---
The event was one I initially planned way back before taking part in I'm A Scientist, and was an interactive workshop/engagement session with 54 Year 10 pupils about the importance of animals for mental health and wellbeing. We had three rooms which pupils rotated around in which they met a group of therapy animals from a charity (rabbits, guinea pigs, a skinny pig and an amazing dog called Tyler) and heard about the work the charity does.
A second room was where pupils had a session with a 'Dogter' – Billy is a therapy dog who regularly works with medical students to learn communication skills and have some relaxation time when the medicine course is stressful. In the third room the pupils engaged in some qualitative research practice to understand how our research was conducted. They practised some qualitative interviewing skills and learned how to map their social networks.
In total, £290 was spent on the animal visitors' fees, parking and travel, £180 on pupil travel, £20 on supplies (pens, markers, flip charts, post-it notes etc), and £20 travel expenses incurred whilst arranging the event.