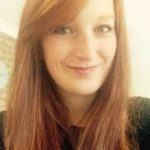 Natasha was voted the winner of the Cells Zone in November 2017. Here she writes about how she used her £500 prize money to attend public engagement events and help train other researchers to get involved.

If you'd like the chance to win funding for your own public engagement work, apply for the next I'm a Scientist, Get me out of here: imascientist.org.uk/scientist-apply
---
Competing in I'm a Scientist was my first experience of public engagement and it got me completely hooked! Since then, I have taken part in over 10 different activities, run training events and presentations about public engagement and lead a committee of public engagement representatives. My experience in the competition really helped to develop my communication skills, as well as the enthusiasm to talk to others about my work.
I used my prize money to take part in as many outreach events as possible, to interact with as many students as I could. First of all, I took the official training to become a STEM Ambassador, giving me access to lots of public engagement opportunities. I then began taking part in lots of events. I got involved in three different outreach days which focussed on women in STEM careers, involving meet-a-scientist STEM careers fairs, where I spoke to lots of women about how I got into research and possible career routes in science.
I have also helped to develop the regenerative medicine public engagement stand, which now has two interactive games and an awesome 3D printer, where we can demonstrate how biomaterials and cells are used together to regenerate the body! This was most recently used at British Science Week 2019 where we engaged with over 900 students. I also travelled down to Oxford to volunteer at the British Society for Cell and Gene Therapy Public Engagement Day, where I engaged with various high school and primary school students, demonstrating the structure of DNA using origami.
I competed in the University of Manchester 3 minute thesis competition this year and made it to the final which was a great experience. I am also heavily involved in public engagement training for PhD researchers and earlier this year I ran a workshop and training session on public engagement and training for using our new public engagement 3D printer which has gone down a treat with the school kids! In the following year, I am planning to host more training sessions, and help organise a public engagement video-making workshop for regenerative medicine scientists.
In total, £360 has been spent on travel to various events and schools visits, roughly £80 on materials for training sessions for other researchers to get involved in public engagement, £20 on posters and £20 on 3D printing materials, with the remainder set to be spent on travel for upcoming events.