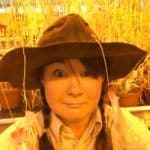 Senga was voted the winner of the Plutonium Zone in November 2017. She used her prize money to hold an activity day for school children at the University of Dundee, which you can read more about below.
If you'd like the chance to win funding for your own public engagement work, apply for the next I'm a Scientist, Get me out of here: imascientist.org.uk/scientist-apply
---
With the prize money I invited 120 children from areas near Dundee University an event called "Cell-ebration of Science". Many divisions from the School of life sciences came together (Molecular Microbiology, Forensic Anthropology, Plant Science, Protein Phosphorylation to name just a few) to deliver a broad range of activities that ranged from messy fun to coding to ensure that all learning styles were accommodated for. There were things like learning about the bacteria that live in your tummy by making fake poo, badge making, making your genes jump and so much more. There were also drama workshops held that addressed scientific topics and questions in a very fun way, these proved to be a huge hit and it was great to have something a little different for the participants to do.
The activities were well established and all resources were available so there was no expense involved with delivering them, this meant that the prize money from IASUK plus generous additional funding from the University of Dundee outreach fund I could cover the full cost of transport for the participating schools and also provide a pizza lunch as a treat for everyone.
It was very important to me to ensure that this event came with no expense at all to the schools or carers of children – some schools do not have the funds to cover transport costs and parents may not be in a position to subsidise these. There can also be a huge stigma with packed lunches, particularly the ones that come for those that receive free school meals. I didn't want anyone to be, or feel left out.
Feedback from the event was very positive, particularly regarding the diversity of activities available and I'm very grateful I had the opportunity to deliver such a successful event. I got so much from just being involved. One of the big things was that by chatting online to so many learners they all really helped me to think about my research and the way I do it, that's helped me so much in my job! It also helped me to pick activities to do at the event because I learned about what they found interesting and things they wanted to learn about.