The text-based Chats on I'm an Engineer and I'm a Scientist can work particularly well for students for whom face-to-face communication is inaccessible. This was demonstrated when Daniel, a child with selective mutism, entered Vicky Heslop's classroom.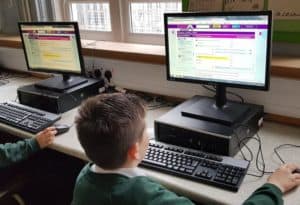 In a recent article for Tes magazine, Vicky says that Daniel "would talk through his friends, who would ask questions on his behalf" but was unable to communicate with adults and teachers. Vicky, a teacher at Westbury Junior School in Wiltshire, explains that it was a "huge challenge for me to understand Daniel's inner world, his interests and passions."
However, Vicky got a glimpse into Daniel's inner world – and his passion for space – when his class took part in I'm an Engineer, Get me out of here. Thanks to the text-based nature of the Chat, Daniel was able to connect with engineers and scientists in the same way as his peers; his selective mutism didn't hold him back from taking part.
Vicky is no stranger to I'm an Engineer and I'm a Scientist activities. In 2018, she told us about her experience with I'm a Scientist, including how taking part broadened her students' horizons. But while I'm an Engineer helped her students gain a deeper understanding of engineering, the activity helped Vicky better understand her student:
"It was really eye-opening for me because I saw a whole level of interest and understanding in [Daniel] that I was totally unaware of. He was able to ask lots of really relevant questions and to feel confident having a real conversation with an adult."