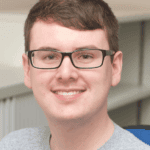 Daniel was voted the winner of the Society Zone in June 2018. Here he writes about how he used his £500 prize money to collaborate with an artist to enhance his public engagement talks with cool cartoons, and created a YouTube animation about his work.

If you'd like the chance to win funding for your own public engagement work, apply for the next I'm a Scientist, Get me out of here: imascientist.org.uk/scientist-apply
---
Millions of people from across the globe believe in conspiracy theories – such as the idea that climate change is a hoax. Whilst conspiracy theories were once just seen as chatter, and of no concern, my research to date demonstrates that exposure to conspiracy theories may lead to important social and political consequences – such as being less likely to vaccinate a child.
During June's 2018 Society Zone event, conspiracy theories were a hot topic of conversation. Using the prize money awarded, I wanted to continue the conservations and bring to life the psychology of conspiracy theories. To do so, with the £500 I commissioned More Than Minutes to draw my research into an engaging cartoon.
On the day the artwork was created, two artists watched me give a presentation where I talked about things like 'what is a conspiracy theory?', 'why do people believe in conspiracy theories?', and 'what's the harm?'. They then spent the afternoon drawing my research, which now sits above my desk in my office! However, this is not the end of the story!
I want to ensure the artwork is used for public engagement. I have embedded the artwork into my public talks on the psychology of conspiracy theories, whilst developing a lesson plan around the topic area for school children. I have turned the artwork into A5 postcards that I print for attendees at my public talks and children who attend my school sessions on conspiracy theories. For those who are unable to attend a talk or a lesson delivered by myself, I have turned the artwork into an animation that is uploaded to YouTube. The video includes a short 5-minute narration.
At the time of writing, I have given 3 public talks and the session has been delivered to three sets of school children – approximately 150 people have been given postcards so far.  The YouTube video has been watched just shy of 400 times. If you would like a copy of the artwork, you can download one from my website.  You can also always get in touch with me if you would like some postcards sending to you.